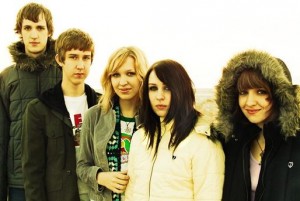 Eisley have signed to Equal Vision Records. The Tyler, Texas quintet signed to the indie after departing from Warner Bros. Records earlier this year, after two full-length albums and several EPs. Their third album is tentatively planned for an early 2011 release through Equal Vision. Eisley singer/guitarist Sherri DuPree Bemis said this:

It's really refreshing for us to be working with a label that's driven by passion and has made a name for itself by working really hard with bands they actually love. It's especially cool for Eisley to be on a label that started out as a 'punk' label because despite not being a punk band in any way musically, we have always done our own thing, gone against the grain and fought for what we believe in and that is the true essence of punk. We're happy to extend our (already extensive) family.
The band is currently on tour. Check out those tour dates here.