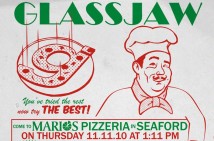 Glassjaw will be releasing a new 7-inch today, exclusively through Mario's Pizzeria in Seaford, New York. The band is inviting fans to visit the restaurant and order the "The Glassjaw" to get the "7-inch Personal Pizza" for $11.11.
No word on the contents of the 7-inch, though the band has released two new songs in the last few months which would fit on a 7-inch; "Stars" and "You Think You're John Fucking Lennon."
Check out the pizza ad here.
UPDATE (4:09 p.m. EST):
Trusty editor Brian ventured out and picked up the record (along with an included personal pan pizza), which is a one-track 7" for the song "Stars." A select number of customers received a pizza box with an interior printing granting them admission to some sort of event tonight in Bay Shore, N.Y.