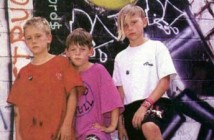 Jean Paul Toulon of pre-school punks Old Skull and later, crust-punk outfit Planned Collapse, has passed away sources report. Few details have been released about the cause of death, but the news has been confirmed through Scott Sturgeon of Star Fucking Hipsters. SFH previously includes J.P.'s brother, Jamie Toulan, also formerly of Old Skull.
Old Skull was formed when Toulon was 10 years old and featured his 9 year old brother. They released material on Restless Records and opened for bands such as GWAR, the The Flaming Lips and Sonic Youth. The band even earned notoriety from television programs like A Current Affair and publications such as Life, People and Newsweek. They split up after the release of their second album, 1992's C.I.A. Drug Fest .
Our deepest condolences to his friends and family.