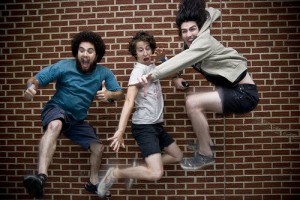 Celebrating ten years as a band this December, The Max Levine Ensemble has been a staple in the DC punk scene. The current lineup includes Benjamin "Bepstein" Epstein, David "Spoonboy" Combs and Nick Popovici. The power trio joined hundreds of other bands in Gainesville at The Fest this year. On a recent Sunday morning before band practice, punknews contributor Kira Wisniewski spoke with Ben and David about their upcoming UK tour, Punk Rock Sundays with Tom and their spankin' new music video for their song "My Name is John."
Update us with what's happening in the world of the Max Levine Ensemble? David Combs: We're going to the UK for the first time. It's a big deal. For us.
Is there anywhere that you're particularly excited about going to? Benjamin Epstein: I've never been there. So anywhere we go.
Combs: Last time I was in England doing a solo tour we met this guy named Tom. Who is really into having fun and really into punk rock and he got the nickname Punk Rock Tom, and the Sunday we were hanging out together we decided it was Punk Rock Sundays with Tom. We went out of our way to go to two different punk shows that day and then said we'd rendezvous again at The Fest. Then at The Fest a few weeks later -
Epstein: On a Sunday
Combs: On a Sunday - I made up flyers that said "Punk Rock Sundays with Tom" and passed them out to everybody at The Fest. The flyer said "If you see this guy give him a drink or a hug or a high-five."
Successful? Combs: Yeah, I started passing out the flyers on Friday and then by Sunday Tom was like a celebrity. The flyer also had a picture of him so people would be like "There's Tom!" and coming up to him and giving him high fives left and right. Anyway, so when we get to Manchester, that's going to be a Sunday and Tom's going to be in attendance and we're going to rejuvenate Punk Rock Sundays with Tom in a big way.
Epstein: That's the highlight of the tour.
That sounds great. Is he coming to The Fest again? Combs: I would be surprised if he didn't. In England he's know as Fest Tom also because he's always so excited about The Fest. I'm also excited about the London show, because the day after we play is the London Anarchists Book Fair, which interests me. All the shows are going to be great. We're playing with Onsind, which is a really awesome folk two-piece with really smart lyrics.
So in the past two years you've released two seven inches, are you planning on doing a full-length anytime soon? Epstein: Yeah, we're in the process of writing and putting together songs. We got a bunch of things that have been sitting on the back burner that we're trying to craft into really awesome songs and eventually we'll put it out as a full-length. We also have a separate project where we're basically updating a bunch of our older songs that we recorded when we were like in high school and didn't do a very good job on them and making them more relevant to how we sound now. We're excited to get those two things done at some point in the near future.
When can people expect to hear these things? Epstein: Oh man.
Combs: The re-release of re-recorded old songs should be out by January. In December we're celebrating our tenth year anniversary, and we wanted to have a big anniversary party in December, but that's probably not going to happen so we're going to do it in January. So we thought that would be an appropriate time to release songs of recordings we did a long time again.
Is this self-released? Combs: Plan-it X is doing the CD and No Breaks Records is doing the LP for that.
Did anything every come out of the Ben Weasel debacle after you released your somewhat of a response album entitled Ben Weasel? Epstein: He hasn't said anything negative about us since, so I think we won that one!
Combs: He's been very smart about keeping his mouth shut about it publically because I think that he thinks that would just get us more attention. But privately we've been informed by some of his friends that he was real grumpy and thought it was a marketing ploy where we were trying to quote "Ride his good name to the top."
Epstein: We've made it all the way to the top!
How's it feel at the top? Epstein: Not really too different.
Combs: Well we're going to have an interview on punknews even though punknews wouldn't review our seven inch. So something good.
So also talking about projects, Ben you are a star of a documentary? Epstein: Oh dear. I am a participant of a documentary which is heavily featuring me.
Combs: It's called The Bepstein Documentary. Epstein: That's a working title.
Tell us more! Epstein: A friend of mine is making a documentary about a project about several people in Baltimore who are trying to write 30 songs in 30 days and she's trying to document how that process goes. Unfortunately everyone that agreed to do it, which was like six people maybe, I was the only one who actually did it. So the focus of the documentary has significantly shifted towards me.
Combs: She interviewed me about his childhood. I'm pretty sure the documentary is about him.
Epstein: No comment.
So how'd it go? The actual project? Epstein: It's okay. It has a few hits and a lot of duds, but it's a fun process. I recommend it. You know, if you write like two or three good songs in a month, that's usually a really good month. So if I write 30 and only 25 of them are bad, that's wildly successful month of song writing.
Combs: This is the second time he's done it also.
Epstein: Yeah.
Combs: Some of the songs from the first time are now Max Levine Ensemble songs in progress.
Epstein: Yeah.
It sounds like a cool project so hopefully the documentary is also awesome. Epstein: The thing about the documentary is that I make some videos of my own and then people saw this girl following me around with a camera and was like "Oh yeah they're making a documentary about Bepstein." And then people ask me "Why are you making a documentary about yourself?" And I'm like, "Nooo! I'm not making a documentary about myself! I have nothing to do with this aside from the fact that someone is following me." I'm just doing what I normally do.
Combs: Bepstein does have a solo project where he plays in front of a screen with a bunch of prerecorded videos of himself backing himself up so it was not completely out of the realm of possibility that he would be doing something so self-referential.
Epstein: Dude, I sound like a jerk! Anyway back to things that don't concern me.
Well back to the Max Levine Ensemble, your music has always been politically charged, if there was one cause that you would hope that your fans or listeners would take to heart and take action - what would it be? Combs: I guess most of the politically charged side comes from my end. So I could answer that more from me than as a band, but as a band I feel like the most important thing is critical engagement and questioning the assumptions that are kind of programmed into you by socialization and cultures that we live in. For myself and for the solo stuff that I do, I think that one issue that I've pushed pretty hard is men educating themselves about patriarchy and trying to take action towards eradicating sexism and sexual violence and stuff like that. I'm into anarchist politics and some of that comes through in the Max Levine Ensemble I think.
Epstein: Yeah, he hit the nail on the head there.
This interview is part of a pre-Fest series. So let's talk about Gainesville for a minute! Combs: Been there.
What do you think about it? Combs: As a town?
Yes, do you have any favorite things or not so favorite things? Epstein: I like the weather.
Combs: We're really good at trouncing Bomb The Music Industry! at kickball whenever we go there.
Epstein: Particularly in October. We don't really play them in kickball at any other time of year.
Combs: We might if we were there together at another time.
Epstein: Oh! We like getting Jamican food when we're there!
Combs: Mmmmm. Reggae Shack. You don't want to miss that.
Do you have any tales of Fest past? Combs: Um…we've been there.
Epstein: I mean for Fest personally - you drive for like 15 hours to get there. You get there around 5 a.m. Wake up around 10 a.m. Play a really fierce game of kickball. Then go swimming. Then play a set. Then watch like three or four of your friend's bands. Then fall asleep completely exhausted and then drive 15 hours back the next day. That's usually the pattern. And it's really fun.
Combs: It is kind of a whirlwind for us because Ben can't really take off work to be there for the whole weekend so we're just driving down and driving back up. Bepstein usually falls asleep while standing at least once or twice.
Epstein: I'm tired.
Combs: You know you play a crazy show dressed up like scientists or something.
Yeah so it's Halloween weekend again this year - are there plans for costumes? Combs: Is it tacky to dress up if you're playing not actually on Halloween?
Epstein: On Halloween we'll probably be driving home.
I don't think it's tacky. Combs: Two years ago we were driving through the night on Halloween so we missed it. Last year we played The Fest on Halloween and this year we're driving back on Sunday and I was hoping I could get back here in time for a little Halloween action here.
Epstein: Candy.
Combs: Last year we had a piñata. This year we haven't thought about it because we're not actually playing in Halloween. Is that in bad taste? Should we make a piñata? How did we make that piñata? Did you make it?
Epstein: I don't know. Magic. I was just kind of under the assumption that if you're not playing on Halloween you've missed your window.
It's Halloween weekend though. Halloween is on Sunday. There will probably be kids trick or treating on Saturday? Combs: What? That's not how it goes. I'm pretty sure that's wrong.
Ha. It probably is wrong. I'm just sayin' you probably could dress up and it would be fine! Combs: Well we're work on that. We'll talk about that at practice today. Thanks for the reminder.
So what's in store for you guys post this month of touring and Festing? Combs: Writing and recording. But everyone should come to DC for our 10th anniversary party in January. I can't really tell you who is playing but it's going to be good.
Epstein: Yeah, we might be there.
Anything else you'd like to share? Final thoughts? Epstein: We've got that music video coming out! It's from a video I shot many months ago.
What song? Epstein: It's for a song called "My name is John." It's on a tape that's out of print. I'm not sure why we chose to make a video for that.
Combs: It's got a good narrative.
Epstein: It's about furniture talking.
Combs: It's probably the first silly song we've done as a band in a long time. But yeah maybe you can help us put it on punknews.org. It features our friend Jack who is the victim of all his appliances in his house coming alive and terrorizing him.
Epstein: In classic 1920s garb. Combs: We aspire to put out more music videos for more songs nobody has ever heard in the near future. Maybe a beach themed song.
Where are you going to do a beach themed video here [DC]? Combs: The premise of the beach theme is that there are no more beaches and people do beachy stuff in parking lots and things like that.
That would be easier to do here than an actual beach. Epstein: Kind of a cop out, but it will work!
Combs: Bepstein is a very talented videographer.
Is that your day job? Epstein: Sometimes.
Combs: He's also the mascot for the Baltimore Orioles.
Is that true? Epstein: No comment.
Combs: Bepstein is legally obligated not to reveal the identity of the mascot for the Baltimore Orioles.
Epstein: That is true.
Max Levine Ensemble "My Name is John"
The Max Levine Ensemble - My Name Is John from Bepstein on Vimeo.