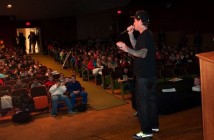 H2O singer Toby Morse has enlisted Blink 182, Transplants and solo drummer Travis Barker for his charity, One Life One Chance. OLOC is an organization that promotes a Drug Free culture. Toby introduces today's youth to his friends who all live clean healthy Positive lifestyles to show kids that they too can be Drug Free and be cool too.
Morse travels to schools to inform elementary through high school students about alternatives to alcohol and drugs and having a positive mental attitude:

From the streets of NY to the stages worldwide and to the schools, the message is clear; just because people are covered in tattoos from head to toe, and play music for a living, does not mean they are druggies, or thugs. OLOC breaks all kinds of stereotypes
Barker also commented:

I love and support what Toby is doing for the youth. It's good that these kids can see that not every rock star is a drug addict and he is such a positive all-around role model for them. Most people that come and speak at a schools are immediately written off by the kids; but Toby looks like them and they can relate to him. I am getting involved to help any school Toby speaks at that is in need of instruments and / or a music program.
Along with speaking, some schools in NYC will be given entire drum kits.