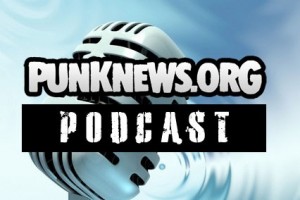 Hardly content to remain a simple one-year wonder, the Punknews Podcast rolls into 2011 with a few new wrinkles, but still the same intelligent-yet-belligerent, sardonic discussion you'd expect from such an illustrious program. This week on the roundtable, news editor Bryne Yancey is joined by managing editor Adam White and staff reviewer Greg Simpson to opine about the Armenian government's targeting of emo kids, the practice of merchandise price-matching on package tours, as well as The Menzingers' Chamberlain Waits being calculated as the Punknews.org album of the year for 2010, as well as the science that goes behind these lists, i.e., math. Plus, bits on The Bouncing Souls, Hot Water Music, CSTVT and more.
As if that weren't enough, for the first time ever we opened up our music to be selected by some of our best and brightest staff reviewers and interviewers, who hand-picked tunes by Look Mexico, Bomb The Music Industry! and Memory Map.
You can click Read More to stream and/or download the show, or subscribe via RSS or iTunes. Don't forget to give us your feedback in the comments section or via e-mail. If you want to relive the glory of our previous intellectual conquests or just subject co-workers to more inane Punknews musings, past episodes are right here.