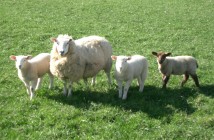 In a recent interview with Property of Zack, Tigers Jaw bassist Dennis Mischko announced the formation of Sheep, a new band featuring members of his group, Captain, We're Sinking and The Menzingers. Here's the quote:
"It's Adam from Tigers Jaw, Greg Barnett from The Menzingers, Bobby Barnett from Captain, We're Sinking, and Pat from Tigers Jaw. Their name is Sheep. It's going to be pretty good, pretty grungy. Look out for that."
We'll keep you posted as more details surface.