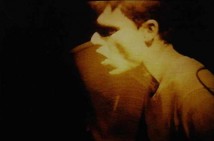 Fugazi's landmark documentary/concert film Instrument will be screened at the National Gallery of Art in Washington DC. This program is part of the inauguration of a showcase of notable films titled American Originals Now. Director Jem Cohen, who spent ten years with the band producing the film, will be in attendance as well some (as yet unnamed) members of Fugazi. The screening takes place in DC on February 27th. The gallery noted:

One of Washington's most successful bands, Fugazi is the epitome of DIY (Do It Yourself) ethics. Its members are both subjects and collaborators with Cohen on this documentary, part of the 2000 Whitney Biennial and winner of many awards. Incorporating more than 10 years of recordings, Instrument weaves personal and concert footage, observational film, collected sound, and Fugazi's own original music into an epic portrait of the band, their environment, and the counterculture of the 1980s and '90s. "I thought of bringing 'dub' to documentary--of a project where unadulterated real-time performances, abstract, rough-hewn Super-8 collages and archival artifacts would collide and conjoin in a way that honestly represented musical experience.
It takes place at 5:00pm EST.