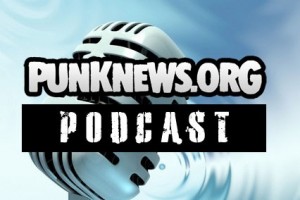 This week's Punknews Podcast may be a day late (and unnecessarily so), but that doesn't mean that you, our dear listeners and readers should shrug it off; in fact, the anticipation ought to be at a fever pitch by now! This week, news editor Bryne Yancey is joined by managing editor Adam White and video editor Chris Moran to discuss and crack unfunny jokes over the lineup and aesthetic of giant festivals such as Coachella, Brian Fallon's new project The Horrible Crowes, Warner Music seeking a buyer, as well as other bits on Rise Against, Fugazi and more.
In addition to that, we've got tunes from Dave Hause and White Lung. Talk about a juggernaut of quality!
You can click Read More to stream and/or download the show, or subscribe via RSS or iTunes. Always tell us what you think in the comments section or via e-mail. If the floods last longer than expected, you can pass the time with all of our previous (amazing) episodes right here.