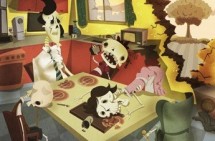 Funeral For A Friend have posted a new song from their upcoming album due out on Good Fight Entertainment. The record is titled Welcome Home Armageddon and is due out March 15, 2011. This is their first offering of music since 2008's Memory and Humanity. Lead vocalist Matthew Davies-Kreye talked about the sound he was aiming for, saying this:

One of my favorite bands is band called Samiam. I've spent the last 18 years of my life trying to write songs that sound as good as anything off Clumsy, You Are Freaking Me Out and Astray. I've never succeeded, but 'Sixteen' is the closest I've ever come. The lyrics are about being young, naive and unforgiving.
Check out "Sixteen" via Facebook.