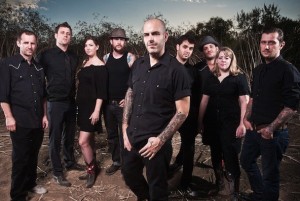 When Bill Monroe started his band, the Blue Grass Boys, in Atlanta, Georgia during the late 1930s, I doubt that he could have ever imagined the influence his "bluegrass" style would have on future generations. Now, more than 70 years later, a Californian band of former punk rockers by the name of Old Man Markley has taken Monroe's sound and turned it into something of their own with their debut full-length, Guts N' Teeth – a soulful, bluegrass-folk album with obvious punk influences.
Punknews interviewer Gen Handley spoke to bass player Joey Garibaldi (also of Youth Brigade) from Texas, where the band was in the midst of a tour with NOFX, the Bouncing Souls and Cobra Skulls.
How's the tour going?
It's really awesome. So far we've done two shows and they've been great - super packed. I'm living the dream, playing with some of my heroes…
Who's that?
Well, I love the Cobra Skulls, but NOFX and the Bouncing Souls are two reasons why I love punk rock so much.
Right on. So when Old Man Markley first got together, fairly recently, in 2007, what were your goals as musicians? It's a really unique sound.
Well, as the legend goes, it started with Ryan (Markley), our washboard player, who was living with Johnny, our guitar player and his wife Annie (Detemple), who's the autoharp player. After one drunken night of basically just playing instruments that were around their house, we were like, "This is really fun - it's definitely worth getting together and doing it again." It was never like, "Lets start a bluegrass-type of band."
We were all playing in punk bands at the time. Johnny and I were playing in a band called Blue Collar Special and that kind of dissipated. Ryan, the washboard player and Alex (Zablotsky) the mandolin player had been playing in Angel City Outcasts for years and they both wanted to do something different - we've always liked playing fast, energetic music. So after that one fateful night, we were really stoked on the sounds we were making and we kept doing it. It was a very natural thing.
We played our first club show in January of 2008 and it was awesome - the entire place sold out of beer and people were dancing on the bar so afterwards we were like, "This is something we need to keep doing."
As part of that natural progression, what is it about bluegrass, or newgrass as you guys are sometimes called, that punk music was no longer doing or was missing?
With all of the other instruments, arrangement wise, we have some much to build on top of each other. I mean, I love playing punk rock, but I grew up playing piano and I really enjoy taking a song and doing a lot of different things with it. I guess the more strings, the merrier.
What are some similarities between playing the two genres? They must be comparable…
Yeah, totally. Just the way you play them. Like, in Old Man Markley, we play our songs very fast and when I practice on the upright bass, I play along to punk records because the tempo is similar - the only real difference is in the drumbeat. Even with the writing, if we stripped the number of instruments for our songs, they would work just as well as punk songs.
How was working with Joby Ford (The Bronx guitarist) as producer for the album?
He was great. He worked really well with us and I think he definitely did a good job on the album. It was a good time.
The song, "Guts 'N Teeth" has a pretty positive message of encouraging people to move past their differences and focus on how we're similar instead…
Yeah, it has a very altruistic, humanistic message that we're all here together…
Why was that song chosen as the title track for the album?
I think it fits in with how we feel about things and also how the band is about bare wood and strings - the bare guts and teeth.
So who is Old Man Markley?
Ryan, our washboard player, his last name is Markley and years ago, during one of his punk rock adventures, he threw his back out and has since experienced the occasional back pain. I mean, he's a young guy - a strapping young fellow - but he has earned the moniker, Old Man, and it has stuck ever since.
As a relatively young band, do you pay much attention to the comments on sites like Punknews?
I've been a big fan of Punknews for years and I always go there to see what everyone is doing - I'm one of those guys who is on constantly. I love the back and forth and I love the comments like, "What the fuck is this crap?" because I would be doing the same. If they don't have words to throw around, punk rockers will pick up bottles quick. The fact is that it's good that people are talking about us on there. Some of the feedback is good, but some people are also like, "What the hell is this?" and damn right because sometime I'm also wondering, "What the hell is this?" (laughs)
(laughs) So you guys have a thick skin…
Yeah, for sure. The first time we played a punk show we opened for Youth Brigade and Guttermouth in Los Angeles - I'm the bass player in Youth Brigade and have been playing with them for about three and a half years. I was a little nervous about what the reception was going to be, but it was great. There were guys with mohawks out there doe-see-doeing (laughs).
We very much have a party-type vibe and are very unpretentious - I think our fight is a fight against pretention. We're all really good friends and we're all out there to have a fucking ball.
So yeah, we pay attention to it and if people are talking shit, at least they're talking - that's a good thing, I think.
How is Youth Brigade going?
I'm 30 and I've been listening to them since I was 14. They were one of the first punk bands I was exposed to and one of the first bands I saw who were like, "Come up on stage and sing the songs with us." Well, 16 years later, they were still like, "Come up on stage with us," but this time they threw me a bass to play.
We just did a six-week tour of Europe. With Old Man Marley, it's been so busy, but Mark Stern (Youth Brigade drummer) is also Old Man Markley's tour manager. We're like a big family and it's been really cool.
How did the relationship with Fat Wreck Chords come to be?
Well, playing in Youth Brigade, we've opened up for NOFX on some dates - Johnny has also played in Youth Brigade - and I met (Fat) Mike a few times and he said he heard that we started a new band. He wanted to hear it so I gave him a CD. A few months later, he said he liked it, but the recording could be better - we did our demos out of a garage. Anyway, Mike was like, "Fuck it, lets just do it," and we released our For Better For Worse seven inch out that has "The Science of Myth", a Screeching Weasel cover on it. Mike was really into that, so then we released the full-length. He's been super supportive and seems like he wants to work with us - he's just a really cool guy.
I've been a fan of NOFX and Fat for a long time and so this almost surreal - a fucking dream come true.
Are you also a fan of the old bluegrass artists? Like, Bill Monroe and the Blue Grass Boys?
I am, yeah - that and Earl Scruggs. Actually what got me into it was Old Crow Medicine Show and I got into them when I heard a cover of their song, "Wagon Wheel." I love the older stuff, but I'm not a super country-type of guy. I do love the incorporation of it. Our banjo player, John Rosen, has been playing banjo for the better part of his life - well over 30 years - and he's so well-versed in all types of music so I'm learning lots from him.
What do you think the old guys, like Monroe, would be saying about Old Man Markley?
They'd probably be talking all sorts of smack (laughs). If you think that punk rockers are gnarly when it comes to ideals and what is and what isn't punk rock, blue grass is more extreme. Bill Monroe basically invented the style and he would tell people when they could use the term "bluegrass" with their music. I think those guys are definitely rolling in their graves when they hear us (laughs).