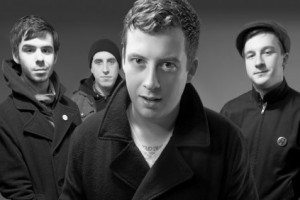 Make Do and Mend made a big splash in 2010. They continue Paper + Plastick's tradition of releasing albums that remain favorites of both the critics and fans alike. Front man, James Carroll was nice enough to talk to Punknews' interviewer, Alex Eschbach, about his experiences at Fest 8 differed from Fest 9, why he's had such fortune experiences with labels, and explains what exactly is The Last Great Wave.
You guys are part of the Last Great Wave. What exactly is that?
So, the Wave started as and still is a joke amongst us a few of our friends; the guys in Defeater, Touché Amore, La Dispute and Pianos Become the Teeth. I was sitting around with my friend Jeremy, who sings in a Touché Amore, and he brought up the idea, "Oh man, I wish we had a funny name for our group of friends and our friends bands. A name for the five of us." So we all started joking about the idea of putting a name to this group of friends and Mike Mullen, who plays bass in Make Do And Mend, came up with the name, "The Wave" and from there on it just sort of stuck. It's kind of like a little clubhouse kind of thing. It's just a fun joke amongst us. I think a lot people have sort of taken it as us considering ourselves the pinnacle of this nice healthy, young, heartfelt music that's happening right now. That's really not it all. There's a ton of incredible bands out there right now making awesome music and really lending to a healthy place for music right now.
Even though the Wave started as a joke, are there any plans to add any more bands?
We've never really thought of it as an enterprise like a lot of people sort of have. There's no real exclusivity there. It's just sort of a funny thing amongst us. But, we don't really have any plans on expanding it.
You guys played Fest. How was that experience for you?
This year at Fest was incredible. It was really awesome. We played last year, so I guess… Fest Eight. That was our first time. We were ecstatic. It was something we always really dreamed about. All of our favorite bands have always played Fest and it's always seemed like such a really cool, fun gather of awesome. So Fest 8 was great and this year far exceeded any expectations that we've really had. It was really, really nice time.
How did this year's set exceed the expectations?
Well, at Fest 8 we played a venue called Rum Runner's. Which I think was a new venue last year. We had a very nice time there. We were really surprised at the turnout for our first year there, in terms of people coming to see us. Which was really, really nice. This year we played 1982. Leading up to and during our set (from what I was told by Tony Weinbender) while we were setting up, he said, "Hey man, I just wanted to let you guys know that there's a line out the door and around the corner for you guys and not everybody can get in." He apologized and was really nice about it. I was bummed, of course, that everyone who wanted to get see us could but at the same time it was a weird swelling of pride, personally.
What were some of the better sets you saw this year?
Dude, this year was awesome. I think every single year it gets better and better. It's sort of expending the fringe of types of bands that play. There's always been this funny, little umbrella that bands get stuck with as being a, "Fest band." It's sort of being labeled as a certain sound or certain kind of music. This year there were so many different bands with so many different styles playing. It was so cool. I got to see Touché Amore and La Dispute play at The Atlantic and their sets were absolutely incredible. Pianos Become the Teeth played with us at 1982 and they absolutely killed us. I got to see Former Thieves at Rum Runner's. I got to see a band that I've never seen before [but] I've listen to and really enjoyed. So I made it a point to them and that band was Nothington. They played at Common Grounds. I got to check them out and I was blown away by them. There are bands I got to see that are escaping me… I got to see Shook Ones, which is one of my favorite bands and some of my really good friends. You know, if nothing else it's a really good excuse to hang out with friends you don't get to see that often.
What's the scene like in Connecticut right now?
The scene is cool. For a long time coming up, when I was younger there was a really, really healthy hardcore scene. But that sort of died out. When we started playing shows in Connecticut there wasn't really much for a unified, centralized scene. Whether it punk, hardcore, indie or what-have-you. So we started playing shows and booking shows around the area, trying our best to bring relevant, newer bands from other places to the area. A really nice, healthy, alternative music scene started to develop around the area. It became really centralized and unified in a sense that where if you put on a hardcore show you would have 150 kids there, the same for a punk show, indie show, or what-have you. Right now it's very cool. We just got to play our record release in Cheshire, Connecticut. It was one of the cooler shows I've A)Ever been too and B)Ever gotten to play. It's really nice. It's a very fortune thing to have such a healthy scene in Connecticut.
End Measured Mile showed up on a lot of Top 10 lists. Is that something you were expecting when you recorded the album?
To be perfectly honest, not at all. It's extremely flattering. It makes me really, really proud. It makes all of us really proud. This is our first full length and I think anyone who plays in a band will tell you that the first full length is the mountain you have to conquer. You put out an EP that people seem to like and then it's like, "Alright, now it's time for us to really prove ourselves. Do we have what it takes?" I can't tell you how many of my favorite bands have put out great EPs and I'm licking my lips for the full length and then I find myself let down. Whether that's fair or unfair. I think all of us really had these high expectations for us. We're very excited for what we were doing. But at the same time we were anxious because we know how fickle people can be. We wanted to make sure we could give people something they could look kindly on.
What's your experience been like with Paper + Plastick?
It's great. Luckily, it's a very cool thing to be on a label, we've had this experience twice, which is really lucky, being on a label run by someone knowing what it's like to be playing in a touring band. Playing in sort of a small band who does a lot of work for themselves. Our last EP, Bodies Of Water, came out on Panic Records, run by a guy named Tim McIntosh who played in a band from Seattle called Trial. Then End Measured Mile came out as a split release between Panic and Paper + Plastick. And Paper + Plastick is run by Vinnie Fiorello who plays drums in Less Than Jake. So, in both of those instances we've gotten really lucky working people who sort of get where we're coming from. People who have a firm understand of a D.I.Y. ethic, knowing what it's like to both want to and have to work for yourself.
2010 was a big year for you guys. What are you hoping to accomplish in the new year?
2010 was incredible for us. We saw a lot of things come to fruition that all four of us had only dreamed us. I think for 2011 we just want to keep on moving. That's always been the aim of our band. Always keep on moving and trying to achieve what's next. Up to this point I think we've done a really nice job and we've been really fortune. 2011 is going to be much of the same. Just keep on plugging.