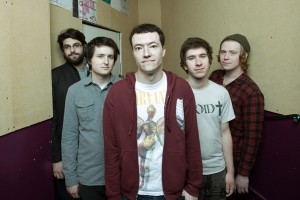 Touché Amoré have just finished recording their forthcoming Deathwish Inc. debut, Parting The Sea Between Brightness and Me. The band had been working with producer Ed Rose at Black Lodge Recording in Eudora, Kansas. Vocalist Jeremy Bolm said this:

We just got home from a 26 hour straight drive from Kansas, and the only thing that made us not completely crazy was the feeling of excitement about completing our new record. We spent 5 days with Ed Rose in Eudora, Kansas. In the first two days we finished tracking, which was done live to give it a more honest/raw approach. Nothing was done to a metronome aside from a piano track. Days 3 and 4 were vocals and adding some musical overdubs to brighten some parts up. Last day was mixing. I can truly say that what was created in that small town is bigger than anything we thought we could do. Ed Rose captured exactly what we wanted and we can't wait for everyone to hear it.
The album is expected later this year. Before that, the band will be hitting the road for a May and June tour with Title Fight, The Menzingers and Dead End Path.