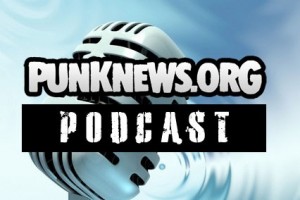 It may be St. Patrick's Day, but we know most of the true drinkers stay in on this night to let the amateurs dominate the scene with their cheap plastic beads, Irish Car Bombs and general mishandling of themselves. So, why not sit at home, crack open a beer and indulge in this week's Punknews Podcast? This week, news editor Bryne Yancey is joined by managing editor Adam White and staff writer John Gentile to discuss Screeching Weasel's new album and Ben Weasel's antics, the No Sleep Records subscription packages and whether or not this is a prudent practice for a label, plus other bits on Face To Face, Mest, Polar Bear Club and more.
On top of that, we have the world premiere of a new song from Small Brown Bike, as well as a new extended edition of Wizard's Beard with Jesse and Goodrich.
You can click Read More to stream and/or download the big show, or subscribe via RSS or iTunes. You can always send us your feedback in the comments section or via e-mail. Past shows are available right here.