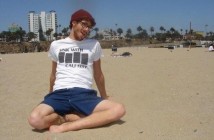 Mitch Dubey of Swear Jar was shot and killed in his apartment in a home invasion this past Thursday. Articles about the news are available further here, here, here and here.
A benefit show for the Dubey family will take place on April 3 in Madison, Conn., with the Flaming Tsunamis, Call It Arson (reuniting for the event), My Heart to Joy, Slingshot Dakota and Brunt of It.
Our deepest condolences go out to Dubey's family, friends and fans.