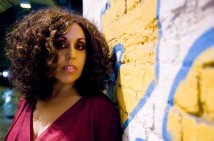 Marianne Joan Elliott-Said, better known as Poly Styrene of the classic punk band X-Ray Spex, passed away yesterday from an advanced form of cancer. She revealed her battle with the disease in February of this year. The Guardian published this about her:

She was also a feminist and "misfit superstar" who paved the way for everyone from Kim Gordon to Karen O. Beth Ditto credits her with "shaping my identity" and her fans include Boy George and David Baddiel. But for generations of followers, the unassuming singer was more than an icon: she was someone who felt like one of us, and who will be mourned like an absent friend. Poly taught me about subjects that school didn't: identity crises, genetic engineering, and consumer society.
Her most recent solo album, Generation Indigo, was released in March and her classic 1976 record, Germ Free Adolescents, celebrates 35 years in 2011. Our deepest condolences to her friends, family and fans.