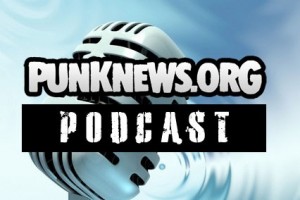 It's the last Punknews podcast of April! Pretty soon school will be out, every band ever will be on tour, and it'll officially be swimsuit season (hope you've been watching your carb intake!). But first, from their comfortable, centrally air-conditioned rooms, Bryne Yancey, Kira Wisniewski and Chris Moran dissect Westboro Baptist Church targeting Less Than Jake, Motion City Soundtrack's free agency and the ambiguity behind the demise of You, Me, And Everyone We Know. Plus, bits on Cobra Skulls, H2O, Beastie Boys, Blink 182 and Star Fucking Hipsters.
On top of that, we have music from The Heated, P.S. Eliot and Spanish Gamble.
You can click Read More to stream and/or download the big show, or subscribe via RSS or iTunes. You can always send us your feedback in the comments section or via e-mail. Past shows are available right here.