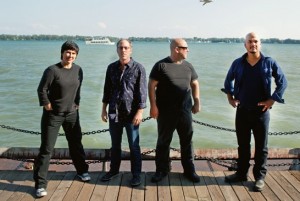 In a new interview with Spinner, Pixies drummer David Lovering and guitarist Joey Santiago hinted at the possibility that a new album from the band would soon be in the works:
"That talk about making a record will be in the forefront next because it'll be time, you know. It'll be time. We've definitely gelled as a unit and hopefully when we can all bury the hatchet -- and we have -- maybe we'll go in there and hope for the best."
The group will be wrapping up a Canadian tour tonight in Vancouver.