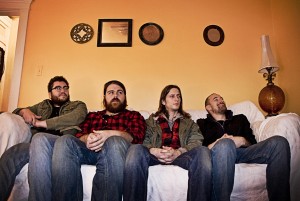 End Of A Year will soon be releasing a new 7-inch and first in their Island Series of recordings. "I'm Going Through Some Shit" and "All Fruit Is Ripe" were recorded at Tuff Gong Studios in Kingston, Jamaica, the studio founded by Bob Marley. Vocalist Patrick Kindlon explained the move as well as some future plans for the series:
"We like reggae and we like music history and it beats the shit out of going to one of the same five studios every band in the US insists on using. … So begins our 'Island Sessions' series of singles. Once a year we'll record a couple songs on an island. This year Jamaica, next year, I dunno, England? Haiti? Clerke Rocks? We'll try to do mix of famous studios and lesser-known spots. Anyone know anyone in Madripoor?"
Check out the cover art here.