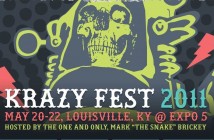 In less than two weeks, over fifty bands will descend upon Louisville, KY to perform at the resurrected Krazy Fest, some old (Hot Water Music, Small Brown Bike, Coalesce) and some new (Tigers Jaw, Lemuria, Fireworks). For those who remember the original run of Krazy Fests in the late 90s and early 2000s, it's a time to reminisce about those days and reflect on what's changed since then, and for the younger crowd Krazy Fest is a time to see a bevy of hungry, diverse new acts perform in the same place and hopefully discover a new band they weren't expecting, be it from the old guard or the new.
Punknews staff writer Kira Wisniewski explored the origins of the festival and talked to the organizers as well as bands performing that weekend to discuss Krazy Fest's past, present and future, why it took eight years for it to come back and what both the bands and attendees can expect come May 20-22.
Louisville—known for the Kentucky Derby, the birth place of Muhammad Ali and from 1998-2003 the home of
Krazy Fest
, Kentucky's infamous punk rock weekend. Eight years down the road, it's finally being resurrected May 20-22 at Expo 5 featuring over 50 bands including Krazy Fest alumni Hot Water Music, Small Brown Bike, Coalesce, Samiam, and the Bouncing Souls. Also on the bill are the incoming class of Against Me!, Fireworks, Tigers Jaw and Lemuria among others for three days of music, shenanigans and yes, a flea market.
The idea of Krazy Fest was born in a car ride back to Louisville from a festival in Michigan with Initial Records founder Andy Rich and host of this year's Krazy Fest Mark "The Snake" Brickey. Brickey recalled, "We were talking on our way home about how we wanted to do our own fest; a fest that didn't have TVs with cows being milled on them or anyone protesting anything—we just wanted to have a fest with good music and lots of hell-raising."
A short period later, Krazy Fest made its debut in 1998 with a weekend pass for just $25 and a sold-out crowd of 1,400 folks.
"Krazy Fest was the first fest to do it right," said Sean Ingram, frontman of Coalesce. "It was the fest that did for punk rock and hardcore what Lollapalooza did for 'alt rock' or 'alternative' at the time. It was the first fest that put all the different bands in the different DIY genres together, packaged it with rad art and easy passes for fans."
Mike Reed of Small Brown Bike added, "It's funny, when it started, it was unique in that, a lot of the fests at that time, especially around the Midwest, were like in VFW Halls and then in the late 90s when Krazy Fest came out it was this big, outdoor spectacle, but it still definitely had those DIY kind of roots."
Krazy Fest 2011 organizer, Andy Tinsley, got involved in its second iteration in 1999. At the time, Tinsley was working with a variety of bands including End Point and Push Back and was brought in the fold to do sound for the festival. It was in 2010 when Tinsley was chatting with Shirts for a Cure founder Mark Beemer when Beemer suggested Tinsley be the one that brings Krazy Fest back. After a little back and forth, the idea grew traction and has officially returned.
Krazy Fest has been known for mixing up genres with only one stage, which in part assured every attendee was exposed to something that might be outside their typical wheelhouse. Over the years bands like Dashboard Confessional and Converge shared the same stage.
Among those representing the new guard is Chris Mojan of Fireworks, who said, "My friend had the poster—actually still does—for Krazy Fest 2003 hanging in his room and as recently as last year I remember looking at that lineup and being like 'Man, I wish fests were still like that.' There is just such a mix of so many different awesome bands, but that are kind of doing the same thing in a way."
Tinsley explained, "I wanted to have such a broad spectrum of great bands playing. I want the straight edge hardcore kid to walk away liking Lemuria or Tigers Jaw, to leave knowing there is still good music outside of your comfort zone and you can still have fun and everything is not so serious."
Eight years later, the same sentiment of mixing and representing genres and having fun is still front and center. Each day will be a mash up of hardcore, punk and indie. But with the seventh iteration come a few changes, two of the most notable being the move to Expo 5 and having multiple stages. Expo 5, with a capacity of 1500 inside, also hosts a flea market every weekend until 5 PM. The weekend of May 21 and 22 will be no different. Tinsley notes that it "adds to the humor factor of Krazy Fest. It's the type of flea market where you can get either a Led Zeppelin cocaine mirror or a ShamWow."
There will be two stages throughout the weekend, with the larger stage being outside and the second stage either inside when the flea market isn't taking place or back in "the dome," a built-in stage at Expo 5. By adding a stage, it gives the opportunity to have more bands this year than ever before. Music will be non-stop, but no bands will ever play at the same time.
Tinsley said, "I didn't want to have anyone play against each other. There was this festival here a couple years ago when Against Me! played against The Flaming Lips; how fair is it for the audience to decide between that?"
Reed of Small Brown Bike appreciates the mix of old and new. "It's going to be fun because there are bands that have played before that are going to be there, that will have that vibe from eight years ago, but I also think it's really cool that they've booked it with new, younger bands that didn't play eight years ago and that brings that fresh, new aspect to it too."
Small Brown Bike recently released a new album on No Idea Records called Fell & Found. "It's awesome that it's here and it's out and I'm looking forward to playing some shows with some new songs. We haven't a played a lot of these songs live—we've NEVER played a lot of these songs live," said Reed. "We're not going to play a whole set of new songs, because that can be kind of a bummer, but we're definitely going to mix it up."
Literally hand-picking each band for this year's lineup, Tinsley wanted to ensure a good mix. "I got bands that were like-minded, that play good music with good meaning. The bands themselves in a sense create the vibe of the festival," Tinsley said.
With the mix of old and new, creates a unique setting for some bands to share the stage with bands that were super influential in their creation. One such example is Michigan bands Fireworks and Small Brown Bike.
Mojan of Fireworks said, "It's weird that this is the fest that people have always talked about being the best time ever and best collection of bands and now we're going to be a part of it; we're stoked. All these newer bands are playing with the bands they've really liked and looked up to the entire time as a band. Small Brown Bike grew up being one of my favorite bands."
In a separate interview Reed responded, "It blows my mind that people cite us as an influence. I can't get used to it and I probably never will get used to it. It's an extreme compliment. It's the most humbling awesome thing to hear, but it's still surreal when I hear stuff like that. "
But more than just a great mix of music, if Krazy Fest had a mission statement, having fun would be at the root of it all.
Jonah Matranga of Far, onelinedrawing and New End Original is a Krazy Fest veteran, he said, "It's definitely the friendliest, most relaxed fest I've ever been too. Some fests can seem very rock-assembly-line, which is depressing. Krazy Fest just feels fun."
A living staple of Krazy Fest from the days of yore is Mark "The Snake" Brickey, who will be hosting again this year. Ingram from Coalesce noted Brickey as being "a real life, living breathing message board trouble maker before message boards existed." Maybe you know Brickey from some onstage nude hell-raising or maybe you know him because he came and spoke at your college about graphic design. Most likely, however, you have no idea who he is. No matter.
"When I go onstage maybe 30% of the people will know who I am and there's another 70% who will think I'm just some old guy with love handles that they don't care about," said Brickey. "But hopefully this old fart can communicate with all those young whippersnappers and we'll find peace and harmony as one. We'll see what happens!"
Brickey will be hosting a sideshow of sorts that will have, among other things, Krazy Idol—a "Krazy Karaoke" contest where individuals can get up on stage and compete with the winner being determined by the audience. The prize is a slot at Krazy Fest 2012 and $300 shopping spree at Ear X-tacy Records. (You can sign up to participate by emailing krazyfestidol AT gmail DOT com.)
Another audience-driven activity dubbed "Chop the Chicken" will be sponsored by a local barber shop. This involves volunteers from the audience coming on stage and randomly selecting a bag. In each bag is a picture of a haircut and if they get the haircut pictured they advance to the next round. If they don't, well, then they're a chicken. The winner will ultimately get 300 dollars cash.
"It's a different type of musical festival. It's called Krazy Fest for a reason, we wanted it to be crazy, not crazy like 'Oh my god, I'm going to die!' but crazy in the fact that you're going to have fun," said Brickey. "Through the punk rock community there was a lot of activism going on, with people getting involved this protest and that protest and I know it's punk rock and I understand that all of that creates the word punk, but there's that other word—rock. [Just] being rowdy and having a fun time."
Ingram from Coalesce noted, "I am stoked to see the Snake emcee the event. I only remember him doing it once before, but it was rad then. I seriously love that guy. "
So what are folks most excited for this year?
Brickey: "I'm most excited about me. I'm also excited to see who stayed thin and who got fat. "
Mojan: "We're stoked to just be asked in the first place. I associate Krazy Fest and the bands that play them as a real cool group. All those bands may sound different, but still represent a similar vibe, you know? I'm really just most excited to be part of all of that."
Ingram: "I think I'm most excited to just see old friends really; the guys in Disembodied, Lucero, Small Brown Bike. I really want to see 7 Seconds for the first time. Actually this is the first time I can remember wanting to see a band at all at a fest with the exception of Danzig at that Fun Fun Fun Fest thing a few years back."
Matranga: "Well, I just noticed they're billing me as onelinedrawing, which is neat, so I suppose I'll have a reunion. Who knows, maybe I'll even bring the robot."
Despite what one might be most excited for—the bands, flea market, a chance to play Chop the Chicken—there should be a little something for everyone at 2011's Krazy Fest.
"If you're going to come to Krazy Fest, be aware that you are part of the festival," said Brickey. "We don't expect you to just buy a ticket and then to stand there like a bump on a log, we expect you to be a part of the festival. I mean, the bands are really important, the music is the ties that bond us and brings us all together, but it's also the people. And if there's a kid that wants to be a human hotdog and cover himself with ketchup and mustard, I think that guy is an interesting guy, you know what I mean? He may not be a very good bass player or drummer or a handsome singer, but you need to meet the human hot dog; he's a part of our community!"
We'll see you and the human hot dog in Kentucky.
Three-day passes are still available for sale online. Every three day pass holder (including ones previously purchased) will be entered to win a prize pack that includes items from every band in the lineup. Set times are expected to be released tomorrow, May 10, and the first band to perform that weekend will be Lions Lions at 3PM on Friday, May 20. Both single-day tickets (with a $5 surcharge) and three-day passes (with a $10 surcharge) will be available at the gate. For more information and complete lineup visit the Krazy Fest website.