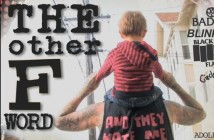 Oscilloscope Laboratories and Showtime have bought the rights to The Other F Word, a documentary produced by Andrea Blaugrund Nevins and based on the autobiographical book by Jim Lindberg of Pennywise and The Black Pacific. The documentary is targeted for a fall theatrical release by Oscilloscope and will debut on Showtime next year. More than just focused on the "fatherhood" aspect, the film looks at the tough choices these musicians make in order to support their families.
Along with Jim, the film looks at many other "punk rock" dads including Fat Mike of NOFX, Brett Gurewitz of Bad Religion, Mark Hoppus of Blink 182, Tim McIlrath of Rise Against, Joe Sib of SideOneDummy Records, Mark Mothersbaugh of Devo, Lars Frederiksen of Rancid and many others. The film premiered at SXSW earlier this year.
Incidentally, Oscilloscope Laboratories is owned by MCA of the Beastie Boys, who also released Banksy's Exit Through the Gift Shop.