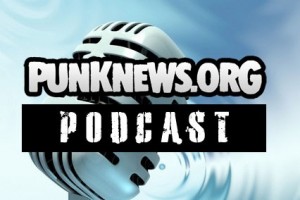 After last week's well-received debacle, it's time for the keepers of the Punknews podcast to reclaim what is rightfully theirs. And reclaim we did! This week Bryne Yancey, Adam White and disgraced former host Chris Moran offer insight and commentary on Alkaline Trio's new album as well as Dan Andriano's solo venture. We also take some time to preview this weekend's Krazy Fest in Louisville, KY, reflecting on its past, present and future. Plus, nuggets on Sublime With Rome, the passing of The Skatalites drummer Lloyd Knibb, Black Flag, Hot Water Music, The Menzingers and more.
On top of that, we have new music from Attica! Attica!, Face To Face and Dikembe.
You can click Read More to stream and/or download the big show, or subscribe via RSS or iTunes. You can always send us your feedback in the comments section or via e-mail. Past shows are available right here.