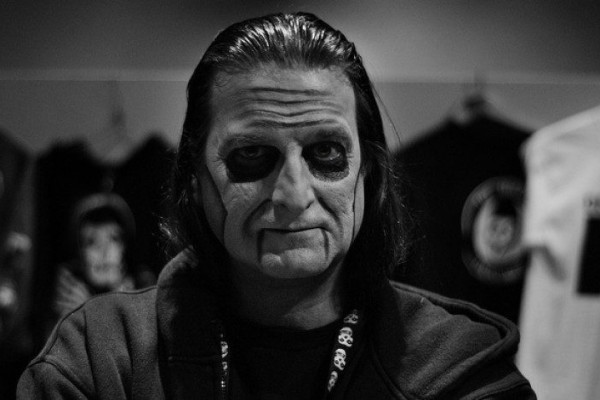 A debate on the best Black Flag vocalist can last long into the night. But while Keith Morris had his trademark manic snarl, and Ron Reyes had his every-man shout, and Henry Rollins had his growl, none of the singers barked like a bulldog at the end of his chain quite like Dez Cadena. And while the other three singers have crafted fantastic music on their own, none seem to have been quite as adventurous as Cadena, who spread his wings and flew through music informed by hawkweed, Parliament/Funkadelic, and B.B. King. After playing in his own prog-punk DC3 and the "Grateful Dead-meets-The Germs" Vida, Cadena found himself playing guitar in the reformed The Misfits in 2003, and has been there ever since.
Now that Cadena is recording his own project, staff writer John Gentile clipped a hair extension on his bangs, combed it into a devil lock, and sat down with Cadena to talk about his own recordings, The Misfits, and whether or you'll see him in the funny pages.
What is the new recording like?
Actually, I kind of got in the recording mode with the Misfits. We recorded a new record. We recorded it last august. I went out to Colorado for six weeks with them. It will be the first official Misfits studio album released in ten years. We went out to Rango, Colorado and recorded with Ed Stasium [of Ramones production fame]. The most impressive thing with him, his very first engineering job was Midnight Train to Georgia by the Pips! How would you like that to be your first recording?! He's an amazing rock mind and a great guy. So, we recorded our album, and I figure in between my Misfits tours, we had some time off this year, to just collect the recordings of my own.
It's been a while since DC3. Some of the recordings are kind of lost. In my earlier bands, we did pretty well at touring, but there was never another pressing of the DC3 records. I got kind of in the recording mode, so I'm collecting a bunch of different people, and am recording a bunch of different things with different people and compiling them. Some of people include, CJ Ramone. I did "Rise Above" on his new record, and now he's doing a song on my record. I'm also recording with a guy named Rich Scarlet, who is not related to punk, but he is more in the rock scene. He played with Ace Freyley and a later version of Moutain. I'm doing some recordings with Thurston Moore. I'm working with different people. When I'm not doing the Misfits, I do little club gigs in the city and just do them for fun, to get that intimate feeling of a small club gig.
We play clubs wit the Misfits, but they're usually sold out which is great, but, I like playing types of music other than punk rock. I like branching. It always has a punk edge- I'm a musician before I'm a punker. I like to really enjoy any musician who is totally dedicated to their craft. It has to have certain rebellion or edge to it. That's what punk tried to keep from rock and roll when it came out. Of course, you try to keep that edge, and not be too overly produced, and that's when punk bands, we wanted to bring it down to the basics.
Speaking of the new Misfits tunes, what are they like?
Last year's Land of the Dead, we re-recorded them for the album. We now have Eric drumming. We call him The Goat. He was in Murphy's Law and many bands in the New York scene. I think the new songs branch out a little bit from the Misfits.
I always considered myself a guitar player before being a singer, then eventually, I started DC3 and sang in that, too. I never wanted to be a singer, but because in Black Flag I leaned to play and sing at the same time, I just said, "the heck with it."
I wasn't happy being the singer in Black Flag. I consider myself a guitarist first and foremost, so most of the songs on the new record are written by Jerry, but I have a few compositions, and they are a little bit different then the usual Misfits… you had to deal with the fact, that we're totally different people now than we were back then. We could we write under a certain mold or we could be truthful and be ourselves have a Misfits mold and advance it. It's a hard themed record.
It's a little bit more… its punk… it's a little more rock with a couple more guitar leads. The creativity is slightly different than Misfits in the past. Basically, it's using the talents of the people in the band and not worrying about what was done in the past. It has been so long for the Misfits to be out with new material.
What do you think of people criticizing the mere fact that the Misfits reformed?
Everybody has a different view… "They shouldn't have reformed," "I think Michael Graves was the best," "They're great now," "Oh, they shouldn't do the band." I can see that. It's like when you are a fan of a baseball team and the players go play with another team for money or whatever reason. Its almost like their fans get used to their favorite guy. Sometime the world isn't always like a story book. Things change for different reasons. They don't get along or maybe its time for people to leave or go do something else. You're gonna have a lot of people with different opinions. We just try to dispel that, say, "the heck with it" and make the best music we can.
How did you first get involved with Black Flag? It's kind of a long story. Ron [Reyes, Black Flag's second lead singer] and I were friends and we became friends with Black Flag when Black Flag had Keith Morris [original lead singer and founding member]. But even before then, there was a little bit of a scene starting up, then there was a little scene in the south bay of LA.
The south bay of LA is between Orange County and Hollywood. It's Redondo and Hermosa, and I kind of knew Ron. My dad would have garage sales and stick me out there, so I'd be playing punk music and this Puerto Rican kid kept walking by and he had a white jean jacket with bands on it. He said, "you like this music?" And we became friends and he told me about this band down at Hermosa Beach [Black Flag] that practiced at this church, and I became friends with Ron and we would go to the band's rehearsal.
He kind of joined the band in the same way I did. When they lost Keith, they asked Ron to be the singer, and then when Ron quit, they kind of asked me. Greg [Ginn, Black Flag's founder, guitarist and sole constant member] and Chuck [Dukowski, Black Flag's bassist and early de facto manager] were, "You're a good guy, we like you. It doesn't matter if you are a good singer, we like you." Once I did a rehearsal, they said, "That's great. You're ready to do our next show."
It was very punk. Those guys were a little older than us. We might have been 17 or 18… I joined in 1980 at 19, they might have been in their early 20's. It was a small community. If there was a punk rock band, everybody knew about it. I always admit that before I met Black Flag, there was a band called Bla'ast. When I was in High School, they had this sound of the 60's- they had some songs that were punk sounding, and had influences of 60's garage bands or the Beatles. Some of it was very melodic, they were sort of friends with us in Black Flag. That was one of the first bands I saw from that area and era when I was in high school, and then I met Black Flag, who were definitely a bit more hardcore in their attitude and sound and way of life. I came form an area where there wasn't a lot of punk bands. It was a new thing for a bunch of people. After 1980 it really started get to called hardcore, and really started taking off.
Black Flag are now legends, but how was the band received in its earliest days?
There was no internet, it was all fanzines, and so it grew, but it was mostly fliers and fanzines. The surfers used to call you, "Deco fag" and then you see them at a Germs show. Now punk rock is cool to skateboard to. When people see something they don't understand they will ridicule it at first, and then as it catches on, they'll jump in the pot.
You went on the first national tour with Black Flag. What was that like?
They went to San Diego with Keith, and they did go up to Vancouver with Ron, and Ron now lives there. After all these years, he's still up there. We went there like the first week I was in Black Flag. We did San Francisco, San Jose, maybe Santa Cruz. We might have played Portland and Seattle in my first week.
Shortly thereafter, we started heading east, and going to Arizona and Texas. And then, later, we were going to New York, which was a big deal. You figure, like the song says, "if they like you in New York, they'll like you anywhere." We had such a buzz about us for a lot of different reasons. Unfortunately, not just for the music… the gigs were notoriously shut down by the cops.
It was starting to get in tHe papers, that Black Flag causes riots, and it was mostly how much trouble we were. We really weren't. We just wanted to play. I remember some gigs where we would go, "1-2-3-4," and play six bars and the cops would shut down the gig and kids would get upset that the cops just busted the show and that's how trouble would start. Kids would start a riot because they paid to see a band and then there was no band. We were gating written up in all these fan zines. Maybe the singles were getting out there, even the first couple singles, people had those, and word got out and we started touring the country. The band that really first toured the country, and first started going over seas were Dead Kennedys and X. They were going to England, so we said we had to do that.
Your father was famed record Producer Ozzie Cadena who recorded acts including John Lee Hooker, Cannonball Adderley, and Milt Jackson. Did his work influence you as a musician?
Certainly it affected my musical education and maybe my tastes. He produced some people like Lightening Hopkins and some blues guys like Sunny Terry a folk blues guys. He did a bunch of gospel music. He did a lot of jazz guys. I think the music we were playing was a little too loud for his tastes, but he was very supportive of me, and figured I was 19 and traveling. When he realized I was going the music route and was happy doing that, he says "Oh well, I wish he could have gone to school more. At least he's learning this type of life."
Is the character "Ozzie" from popular comic strip "Mutts" really named after your dad?
Yes! In the 1960s, when we were in New York, he owned a record store downtown. There was riots in 1968 , the town kind of went down a little bit. In between that period of time, he moved his record store to New Brunswick, then we moved to California. He packed up his stock and moved to Hermosa Beach. Patrick, the creator of "Mutts", worked at the record store. His family were friends of my dad. Before Mutts was published, Patrick had a whole list of names to use, including my sister's name and even Dez.
Any last comments for the readers of Punknews?
As far as any kind of wisdom or message, my message is be true to what you believe in, and don't be afraid of progressing musically. First and foremost, I see myself as a musician more than a punk, although I will always have the attitude of punk rock in me.
I can't say that I would never have done music without punk. But for me, I love people who are dedicated to their craft. I just got this wonderful DVD. It's Jeff Beck doing a tribute to Les Paul. This would have been on Les Paul's 95th birthday. When I saw this guy do that, I realized how much this other guy influenced him. You might not like all of the music he put out, but he never stopped playing. He was always true to his music. Stick to your guns.