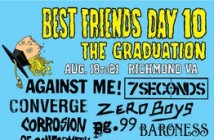 Best Friends Day 10, a Richmond tradition taking place August 18-21, has added Zero Boys, Kevin Seconds, Mikey Erg, Tubers, Sexy Crimes and hometown heroes Grown Ass Men to this year's lineup.
Over the years it has grown from a one-day party at Hadad's Lake to a four-day festival that brings together bands and people from all over the world to see music, hang out, and make new friends.
Previously announced bands include: Against Me!, 7 Seconds, Converge, Corrosion Of Conformity (Animosity Line-Up), PG 99, Baroness, Strike Anywhere, Off with Their Heads, Jesuit, Dead To Me, Iron Lung, Little Ozzy, Victims, No BS Brass Band, Screaming Females, Dear Landlord, Magrudergrind, The Dopamines, The Catalyst, Night Birds, Big Eyes, The Max Levine Ensemble, Dry Spell, Capsule, Worn in Red, New Creases, The Haverchucks
Tickets and more information are available on the official website here.