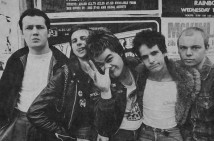 Pirate's Press Records has announced a bunch of vinyl and DVD releases. First, the label has unveiled an elaborate shaped picture disc from Serbia's Red Union. The release, which you can see here, features one original song and a cover of The Specials' "Rat Race."
Next, the label will be releasing Oi! Jack from The Jons. The indie/punk/ska outfit from Essex previously released the single for Walk Towards The People though Pirate's Press and that one is headed for a second pressing.
The label has also been raising money in memory of longtime MRR columnist Bruce Roehrs who passed away last year. The money raised will help establish Bruce in the SF Columbarium and hopefully organize Roehrs Records, a record label in Bruce's honor.
Finally, the label is pressing a DVD from legendary oi! band Cock Sparrer. Titled Back in San Francisco, the disc was recorded at Pirates Press' 5th Anniversary Party in November of 2009 in San Francisco. Find more details here.