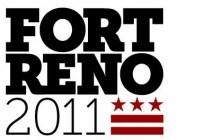 Fort Reno, the free summer music series in Washington, DC launched it's 2011 season today (June 13) with Beasts of No Nation, Railsplitters and Valley Tours.
Organized by Amanda MacKaye, Fort Reno is one of DC's great summer traditions featuring bands in the greater-DC area. Past performers include Fugazi, Ted Leo, The Dismemberment Plan and Q and Not U. All shows are free and will run throughout the summer every Monday and Thursday with music starting promptly at 7:15 p.m.
For the schedule, directions and more information click here.