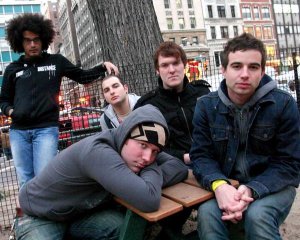 Hit The Lights recently entered the studio to begin work on their third full-length (and major label debut). Frontman Nick Thompson released a statement on the new material; here's an excerpt:
"I can tell you that we've written more songs for this record than we ever thought possible. Most of those songs you thankfully will NEVER hear. I'm sure we'll release a couple from time to time, but the songs that will be on this new record are songs that could never be on "Stick Up" or "Skip School". We've grown up on the road, gotten older and have changed. I think the same can be said for our fans. The songs that have come out of this experience are far deeper and more meaningful to me than any of our previous material. It's going to be a big, dark, beautiful record and the people we have behind us I have no doubt will help us deliver."
The group last released Skip School, Start Fights in 2008 via Triple Crown Records.