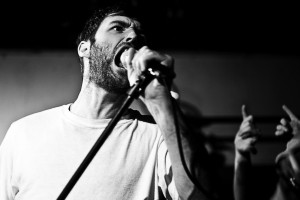 California hardcore act Ceremony has joined Matador Records. The label promises a new studio album in 2012 to properly follow up last year's Rohnert Park.
Ceremony's farewell effort for Bridge Nine has been jointly announced, as well: Covers, a six-song EP of such that will include takes on Urban Waste ("Public Opinion"), Pixies ("Nimrod's Son"), Crisis ("Holocaust"), Eddie and the Subtitles ("American Society"), Vile ("5 to 10″) and Wire ("Pink Flag"). No release date was mentioned, but pre-orders are expected shortly.
The band plays the House of Vans in Greenpoint, Brooklyn, NY tonight alongside No Age, HEALTH and Cults. They also have a few other U.S. dates planned, as well as a European tour following.
UPDATE (2:09 p.m. EST): The EP has been given a proper release date of August 9. You can check out the cover art on its release page.
| | | | | | |
| --- | --- | --- | --- | --- | --- |
| June | Thursday | 30 | Greenpoint NY | House of Vans | with No Age, Health, Cults |
| July | Friday | 1 | Brooklyn, NY | 538 Johnson Ave | with Veins, Give, Zero Progress, Hounds of Hate |
| July | Saturday | 2 | Baltimore, MD | Charm City Art Space | with Joyce Manor, Sacrum, Fox & The Hound |
| July | Sunday | 3 | Philadelphia, PA | The Barbary | with Kromosom, Gypsy, Pink Coffins (3pm) |
| July | Sunday | 3 | Philadelphia, PA | Philly Punx Pinic at Blockley Pourhouse | with Kromosom, Bloodcrow Butchers, Cleansing Wave, Dopestroke, Piss Ant |
| July | Friday | 22 | Santa Barbara, CA | Sound And Fury Festival | |