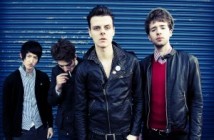 SHARKS have announced that they have parted ways with bassist Cris O'Reilly. The band's statement said only this:

We regret to announce that Cris O'Reilly is no longer in Sharks. We would like to wish him all the best for the future. We will be continuing this year's touring/recording schedule with a temporary replacement, including every date of this year's Warped Tour.
O'Reilly also posted a comment:

As you may have heard I'm no longer in the band. I can either, sit back and let people make their own assumptions over what happened, or tell you my opinion and views on what happened. People will make up their own opinions, which they're entitled to do & the assholes will always be people that have nothing nice to say about anybody. I don't think saying there is a side to the story that is a mature way to go about a situation like this. But anyway, one day I may throw out my version of things, but right now I'm attempting to get back to normal life. I'm sure they'll go on to be the biggest band in the world and good luck to them for that I just hope they look out for each other above all. I don't think anybody wants hostility in either camp and I honestly wish them the best for the future.
The band is supporting their Rise Records-released compilation album, The Joys of Living 2008-2010, on the Warped Tour.