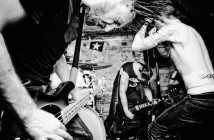 Neurot has added Belgian outfit Amenra to its roster. Label founder/Neurosis vocalist/guitarist Steve Von Till had this to say about working with the band:
"For us in Neurosis and Neurot Recordings, life has always been a quest searching for something deeper, something more meaningful, something that moves one to feel something real in a world full of soul killing triviality. Amenra is deep, and real, and moving, and incredibly inspiring. Their family is dedicated and like-minded in a way that we relate to completely. Kindred spirits. Their musical and visual aesthetic is pure and runs through everything they do, their music, their words, their graphics, their visuals, and print media. That unspoken spiritual core that we seek, weaves throughout their being. It is with great honor that we welcome them to our home, and to our label. There are few in our tribe in this world, and we are definitely stronger when we are together. I am eagerly awaiting the sonically induced spirit quest that will be Mass V at the Church of Ra."
Amenra's fourth album and Neurot debut, Mass V is expected to be detailed shortly.