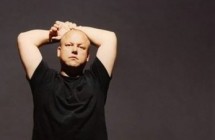 Pixies' frontman Black Francis and songwriter Reid Paley are set to release a collaboration album in September, which they recorded in just two days. The album, which is simply titled Paley & Francis and features 10 tracks, will be released on September 6 after being recorded late last year in Nashville, Tennessee.
The pair said:
"We wrote the music for the songs in Paley's apartment in Brooklyn over three afternoons when Francis was in New York. We each took half of the songs to finish off with lyrics, and Francis went off to meet what he sometimes likes to call "the old band" for another tour. A few days later, we were recording at Jon Tiven's studio in Nashville. We each sang lead on the songs we wrote lyrics for and sang backup on the others. We worked fast."
The Pixies recently announced that they plan to tour "lost cities" later this year as part of the headline run celebrating their classic album Doolittle.
The tracklisting for Paley & Francis is as follows:
Curse
On The Corner
Magic Cup
Ugly Life
Seal
The Last Song
Cresent Moon
Deconstructed
Praise
'Happy Shoes