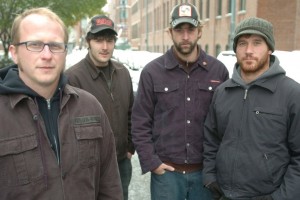 Huffington Post is streaming a new Hot Water Music song called "The Fire, The Steel, The Tread." Chuck Ragan had this to say about the track:
"Since we recorded our first song together in years this way (in bits and pieces), there's no telling the direction we'll be heading in for the future, but we're all extremely excited to see what's down the road! But before we get into the studio, we'll be heading out in August for a string of club gigs and big festival including Riot Fest East (Philadelphia, PA), The Fest (Gainesville, FL), Reading and Leeds Festivals (UK) where we'll be playing both of the new songs from the 7" as well as a solid mix of the oldies."
"The Fire, The Steel, The Tread" will appear on the upcoming self-released 7" coming out this August. According to the band's official Twitter page, the next song will be available on their Facebook page Monday.
You can hear the song here.