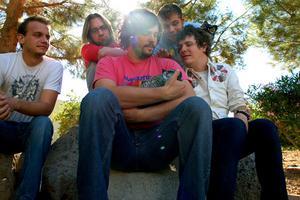 Phoenix, AZ-based Dear and the Headlights have called it a day. Guitarist PJ Waxman issued a lengthy statement on the band's website, expressing a degree of disillusionment with certain aspects of the music industry. Here's an excerpt:
"The music industry is a rough world to be in. It's hard work and very draining and it got to the point that we drifted away from why we were playing music to begin with; because we loved it. We got together as friends and created songs because it was the only thing we wanted to do. So we wrote some songs and started playing shows. The next thing we knew, hundreds of people were attending our shows. After that, record labels started showing interest, then other bigger bands wanted to take us out on tour, then we started selling shirts and cd's and stickers and buttons, bags, frisbees, towels, bookmarks (my favorite merch item we ever sold) sweaters etc. Next thing we needed a manager, a publicist, a lawyer, a better website, someone to respond to emails and messages, and someone to take care of business while we were on the road. Something that we loved so much and took very personally became something that so many other people were involved with. We started meeting and talking about how we could get more fans and how we could get people to our website and not just Myspace or Facebook. How we could put on a better live show so people would buy our t-shirts or cd's. It got ridiculous and that's what bands do! All of this is planned out! What happened to just getting together with your buddies and writing songs because it was all you wanted to do? Music is expression. Music should be an overflow of life experience; and when your life is touring, labels, t-shirts, tent signings, interviews with local papers, etc., where does the overflow from life experience come from? How do you create music about your life when your life is all about creating music? It's a vicious cycle and I personally commend the MILLIONS of bands that do it. It's hard work."
Dear and the Headlights released both of their full-lengths via Equal Vision Records, the most recent being 2008's Drunk Like Bible Times.