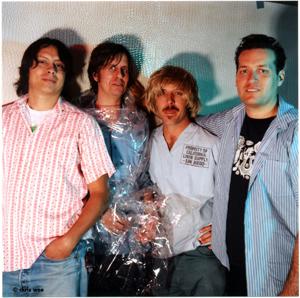 Hot Snakes will be reuniting for a set at All Tomorrow's Parties in Minehead, UK this December. Frontman John Reis hinted that more shows are possibly on the horizon in a heavily [sic]'d statement:
"yeah, im super stokified on this. so far just ATP is confirmed. we are talking about maybe doin a couple more shows before hand. not sure where but not west coast. we will be hangin on the east coast so most likely out there or in europe.i will letchu know. don't know who is playin drums. trying to figure out the scheduling and who is up for it and what makes the most sense. please do not share your thoughts or preferences on the matter. not interested in suggestions. Night Marchers shows most likely will not coincide with this trip. good times."
The band called it quits in 2005, not long after releasing their Peel Sessions EP; members have gone on to perform in Night Marchers, OFF!, Obits and others. They briefly reunited onstage for an encore during a Night Marchers / Obits show last year in San Diego.