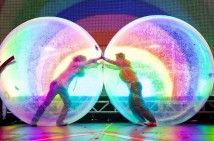 The Flaming Lips and Weezer have begun their co-headlining concerts, kicking off with a show at the PNC Bank Arts Centre in New Jersey. Coming on stage inside the Lips trademark bubbles, the bands took it in turns to play their own hits.
Explaining the concept Wayne Coyne said: "We hope it's kind of confusing. You leave to go to the bathroom and Flaming Lips are playing and you come back and Weezer is playing."
Both acts played all their hits and fan favorites, culminating in a team effort with both full bands for the Flaming Lips "She Don't Use Jelly."
Continuing their alternative live shows, Weezer are due to play a 'rock cruise' in January, next year.
Photo Credit: Rollingstone.com