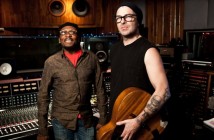 Reggae legend Jimmy Cliff is currently working on a new EP and album with Rancid's Tim Armstrong. The EP, due out this November, will notably include a cover of The Clash's "The Guns of Brixton," is currently slated for a November release while the full-length should follow in early 2012. Cliff spoke to Stereogum about the collaboration:
"The project started after someone in my management organization introduced me to Tim. The cool thing about it was that Tim knew people from the Clash, who I associated with a lot. I worked on a record with Joe Strummer shortly before he passed away. So, we knew people in common and that made it very easy at the beginning. Also, Tim is just very easy to work with. He's a very creative guy and it's just been very good -- and very easy -- working with him."
Click below to stream Cliff's "Guns of Brixton" cover.