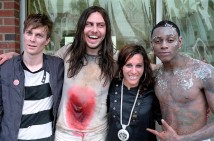 Fader reports that Converse just released "I'm a Goner" by Andrew W.K., Matt & Kim, and Soulja Boy. This track is the latest addition to their growing list of Three Artists, One Song.
Fader reports:
"Matt & Kim wrote the song's base, aiming, "to make a song people can party to," says the duo's Matt Johnson. Then, they worked with good times guru Andrew W.K. and goofy heartthrob Soulja Boy to fill out the fete. Soulja Boy says the experience was a warm one. "Meeting Andrew W.K. was dope. He was a fan of mine. When I got onto the video set, he was like, Yo man, I'm a fan of your music. I was listening to his records as well, and he got some dope songs."
A video for the track is forthcoming and set to premiere on MTV2 this Sunday at 1:30PM.