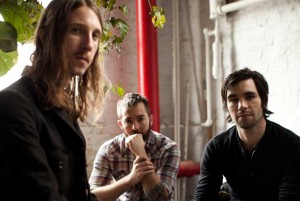 Russian Circles has detailed their upcoming full-length. The record is titled Empros and is due out October 25, 2011 via Sargent House; once out, it'll follow up 2009's Geneva. In the release, the band promises it to be their heaviest album to date (and without a hint of hyperbole):
"Empros picks up where the anthemic riffs and melodies of 2009′s Geneva left off and injects evermore slithering rhythms amid skull-crushing heft with all the visceral intensity of Godflesh, Swans and Neurosis. Put simply, Empros is Russian Circles' Master of Reality: a radical revision of both heavy and melody that is monolithic in its clarity and perfection. Or, like a lone surviving wooly beast emerging from a brutal winter's frost, Empros is the sound of a band shaking the ages from its shoulders with all the brutal force of a behemoth awakened."
Russian Circles will be touring Australia and New Zealand later this year in support of the new album. Check out the cover art and track listing below.
01. 309
02. Mladek
03. Schipol
04. Atackla
05. Batu
06. Praise Be Man