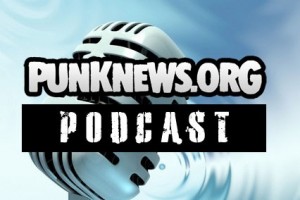 On this week's gargantuan Punknews Podcast, Bryne Yancey, Chris Moran and Kira Wisniewski weigh in on the return of Mitch Clem's Nothing Nice To Say, Brendan Kelly's impending solo album, Blink 182's slightly infuriating numbers game and why they can make fans work to hear new music, plus bits on Billie Joe Armstrong's wardrobe, My Chemical Romance's drummer drama, and The Horrible Crowes' new single.
Plus, we kick off our Fest 10 coverage by interviewing Banquets vocalist Travis Omilian about the band's plans for the weekend in Gainesville and beyond, among other things. We'll be doing some sort of Fest-centric segment on the show every week leading up to the event, so get pumped.
Also, as if that weren't enough, we feature three new songs (from Balance and Composure, Hostage Calm and Daylight) from the new Run For Cover Records compilation Mixed Signals.
You can click Read More to stream and/or download the big show, or subscribe via RSS or iTunes. You can always send us your feedback in the comments section or via e-mail. Past shows are available right here. You'll also notice that we've changed our streaming apparatus; you wanted a pause button, you got a pause button.