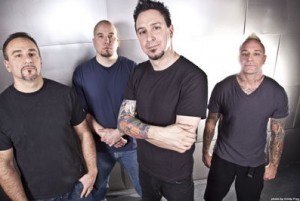 New York hardcore mainstays Sick Of It All will celebrate their 25th anniversary as a band with the release of Nonstop, a collection of re-recorded favorites due out November 1, 2011. The 20-song album will span their career and features new versions of each song recorded at Antfarm Studios with Tue Madsen. They explained:

It was a fun recording session, and a relatively easy one because we're so used to playing so many of these songs live. They're like second nature. Most of these songs make their way into our live sets all the time, so they're current - they reach new ears and are constantly refreshed by their exposure to a brand new audience. It's not like they had to be dusted off. We changed tempos mostly and some of the arrangements, but we didn't want to do anything too drastic. We wanted to keep most of the songs true to the originals, but with a more powerful sound that we feel makes them all they can be.
The band has released albums on a variety of indie and major labels including Fat Wreck Chords, Abacus Recordings, East/West/Warner Music Group and Equal Vision Records.
Clobberin' Time
Injustice System!
Sanctuary
Scratch The Surface
Us Vs. Them
The Deal
Just Look Around
Ratpack
World Full Of Hate
Pushed Too Far
GI Joe Headstomp
Never Measure Up
Chip Away
Busted
Locomotive
My Life
Friends Like You
Relentless
No Labels
Built To Last