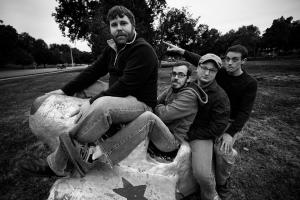 Coalesce will be reissuing 1996's Give Them Rope on vinyl. The double LP features a remastered version of Give Them Rope as well as a second disc of 2010's Give Them Rope She Said v2.0; a remixed version of the album.
Coalesce's Sean Ingram had this to say about the reissue:
"Coalesce is very honored to be working with No Sleep records to give our first full length record a proper home in vinyl. This record has proved to be a very difficult challenge over the years, and some of us felt it was never quite done. The art wasn't correct, that bass line Stacy biffed needed fixing, the mastering was muddy. Whatever anyone has to say about Give them Rope, the band has their own opinions too. It's true that you never forget your first, and this sentiment is what led Ingram to revisit this record around 2002 to fix those past mistakes as it was going into repress again. The results weren't bad, but they were too different. It's something that George Lucas could appreciate, but old fans could not totally embrace. Because 2002 is in itself a long time ago, and more new fans actually heard the second version than the first, we are doing we think is the right way to approach this and No Sleep is including both versions in one Gatefold package with the original artwork reworked to include both versions." Give Them Rope will be available November 22, 2011 on No Sleep Records.
"Give Them Rope" (1996) Track List:
Side A:
1. Have Patience
2. One On The Ground
3. Cut To Length
4. For All You Are
5. Still It Sells
Side B:
6. Chain Smoking
7. Did it Pay The Rent
8. Every Reason To
9. I Am Not The First
10. This is The Last
11. It Took A Year
"Give Them Rope She Said v2.0" (2002) Track List:
Side A:
1. Have Patience
2. One On The Ground
3. Cut To Length
4. For All You Are
5. Still It Sells
Side B:
6. Chain Smoking
7. Did it Pay The Rent
8. Every Reason To
9. I Am Not The First
10. This is The Last
11. It Took A Year