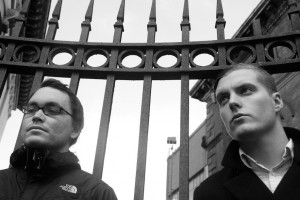 Since forming in February 2010 as a two piece and later expanding to include five members, San Francisco's Deafheaven have rapidly garnered accolades for their blend of hardcore, black metal, and shoegaze. Earlier this year the band joined Deathwish, Inc. and subsequently released their debut LP, Roads to Judah, to both praise and criticism from the independent music community. With their first nationwide tour behind them and now back home in the Bay Area, guitarist Kerry McCoy was nice enough to catch up with Punknews staff interviewer Andrew Clark on a Friday night via Skype to talk about joining Deathwish, the experiences inspiring Roads to Judah, and the Bay Area scene.
I know that you guys are from the famous Bay Area of California, which is traditionally viewed as a punk scene. What influenced you to play black metal over say, something more akin to Jawbreaker or Rancid?
While the Bay Area definitely has a thriving punk scene, there's much more than that here. Weakling and Ludicra, two of our biggest influences are from San Francisco, as is Flenser records who have put out great Bay Area bands, Pale Chalice and Bosse-de-Nage. With all of that being said, there was never a conscious decision to play this or that, we just decided to make the music we wanted to make, and that was what came out.
I know that a few of you guys hold down regular day jobs, but is the hope to make Deafheaven a full-time career?
The only hopes I have with Deafheaven is to make music that I enjoy playing. If somewhere down the line that leads to a point where we're living off of the band, I'd be ecstatic. I'm not banking on it, however.
Before moving onto what is next for the band, I'd like to talk about the current LP that is out now. Having listened to Roads to Judah numerous times while reading the lyrics, it appears that there is this sense of intense introspection and frustration with the current world. What, if any, life experiences contributed to the writing of this record and the emotions it expresses? The record is lyrically, as well as musically, a sort of documentary of a very tumultuous time in our lives, I don't want to go much further into it than that.
Recently the band completed its first US tour, and I was wondering what you guys are up to currently?
Right now we are currently writing for the next release. We don't know if it's going to be an EP, a split, or a LP. It seems like it's going to be a LP, and aside from that we have a tour coming up in September that we're pretty stoked for. We're going to be playing the Great American Music Hall with Kylesa on September 14th. Then we're doing a short tour out to the Within These Walls Fest in Arizona with our good friends DNF and Lake of Blood, a black metal band from Los Angeles. DNF is a heavy power-violence band with members of Trash Talk and Touché Amore; they were from LA but some of them live up here, too. So that's pretty much all that is confirmed right now.
You mentioned before that you guys are currently writing for some type of new release. Any idea if it will continue in the same direction as your demo and LP or are there new elements you would like to introduce?
The new LP will be faster, darker, a lot heavier and far more experimental.
How have things been since joining Deathwish and releasing your debut LP, Roads to Judah?
Great! Pretty much all of the feedback we got back on the LP has been absolutely excellent. The people who are open-minded enough to be into it are. And those who aren't, I really didn't think they'd be into it beforehand. Deathwish has been absolutely great, too. Those guys Trey and Jacob are great guys. They've really been busting their asses to help us out and pushing us hard. They've helped to get us to where we are today, and it's been amazing since the day we signed the contract.
That's great, and I was excited to see you sign with Deathwish, given its impressive roster and track record with releasing consistently good records. Additionally, I think a band like yours offers diversity to the label's traditional orientation towards hardcore punk, which seems to have been well-received.
Thanks, man.
Onto some things that are a bit more lighthearted. As someone who, from what I can tell, enjoys both punk and metal, answer me this: Why cannot the punk and metal communities get along?
While I can understand what you mean in a broad sense, it's not really like that in the bay area. Most people I know like all types of music, and those who don't are sort of looked at as being rather closed minded. We've played with shoegaze bands, hardcore bands, black metal bands, etc, and even with genres intermixing most people stay for the entire show.
I also noticed you seem to listen to hip-hop quite a bit, too, which I think is awesome. Would you ever consider doing a Deafheaven show that featured hip-hop acts, too? If so, who would you include? .
While George and I do listen to hip hop, a lot of the things you see on our twitter or Facebook are inside jokes with friends. We wouldn't play a show with a hip hop artist just because I don't think it'd be right for us.
Ah, I see. In wrapping up the interview, I would like to offer you an opportunity to say whatever you wish to our readers.
Thanks for caring.