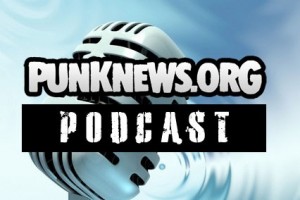 In this very special, "No adults allowed" edition of the Punknews Podcast, the inmates have overrun the asylum. Interviews Editor, Rich Verducci, does his best to maintain some semblance of order, while Video Editor Chris Moran and Punknews Contributor Greg Simpson tackle the week's pressing issues. The boys offer their opinions on Bad Religion hating on Jesus at The Reason Rally, Weezer letting their fans choose which album sucks the least, and offer a double blast on Kickstarter, with input about Living with Lions trying to recoup FACTOR cash and Franz Nicolay using it to produce his next album. If that weren't enough (and we know it's not) we also have a special on-air (cyber air) guest, drummer extraordinaire Benny Horowitz of The Gaslight Anthem (and recently Bottomfeeder).
To make our inane banter somewhat tollerable we also have music from Look Mexico, Kevin Devine and the aforementioned Bottomfeeder.
You can click Read More to stream and/or download the whole shebang, or subscribe via RSS or iTunes. You can always send us your feedback in the comments section or via e-mail. If you want to amuse friends and party guests, past shows are available right here. If you haven't noticed we've changed our streaming apparatus; you wanted a pause button and we made that dream a reality. Just don't say we ain't never gave you nothing (because that sort of grammar would drive Adam White insane).