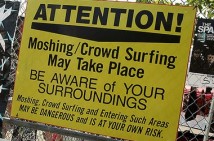 Fat Wreck Chords artist Pour Habit and San Luis Obispo-based venue Downtown Brewing Co (now SLO Brew) are among those named in a lawsuit after a show attendee was allegedly injured in a crowd surfing incident. According to the report from The Tribune:

Chuck Green, a vocalist in the group Pour Habit, slammed into 18-year-old Robert Freeborn, pushing his face into a speaker monitor, according to a lawsuit filed Sept. 9 in San Luis Obispo Superior Court. Green weighed more than 200 pounds, and Freeborn suffered a concussion and facial fracture and now has the permanent condition of diplopia, or double vision, according to [Freeborn's lawyer]. Freeborn wasn't a willing participant in Green's "crowd-surfing antics"
Check out the full story here.
(Incidentally, if this suit proceeds, The Wonder Years may owe Kira a new pair of glasses. )