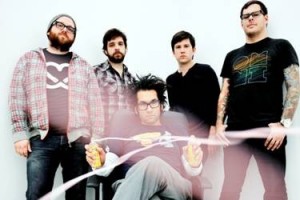 Motion City Soundtrack is taking a break from recording their 5th full length album, to bring us the four album/two nights/seven cities tour where they're playing their discography across a couple of nights in each city. Punknews interviewer, Jason Epstein caught up with MCS bassist Matt Taylor at their I Am The Movie/Commit This To Memory show in New York City for a chat about the band's past, present and future.
What will your next album be like?
Well, I think it is a little more all over the place, in a good way. I don't know why. We actually just had a lot more time to get together and write in Minneapolis earlier this year. And we have no label and we decided to just fund everything ourselves and move forward like there was nothing different. [As if] we had a label, we had a budget, we had a schedule. So, we just kinda kept going. We didn't want to sit around to wait for something to happen. We decided to keep going, and I think the fact that we were kind of relaxed about it kind of made us go, well we have this idea that doesn't really make sense but I think we can make it work. And I think we ended up with a collection of songs that are all over the map. There's more of the same Motion City that people know I think that are kind of like observations about people that are very detailed and very quirky and descriptive and there are things that are a little more like…OK, we're in our mid-30s now and we're starting to think a little more about the timeline of life. A lot of that has made its way into this record. Just mortality and things like that.
You're not gonna die are you? You're in your mid-30s, not your mid-80s.
No, we're not gonna- we're never gonna die.
That's creepy.
We're just scared of dying. Yeah, that is really creepy!
Around when do you think it will be released? I've heard 2012, but obviously that's a pretty wide open window.
And you know what answer I'm gonna give you right now? 2012. We don't know. We don't have a label yet. We're kind of trying to figure out right now. Obviously, we want it as soon as possible, but unfortunately there's always some sort of timeline that people have to work with. So, as soon as we can. 2012.
What was the inspiration behind these special shows?
We had done some shows in Chicago in 2009, and at the time that was a crazy undertaking for us and then our manager was kind of just like, "Guys how would you feel about doing that again but now that you have another record you'd do four records instead of three and you'll take it on the road." And we're like, "OK, we're terrified of that idea but you know, we'll think about it." Then it just became something that our agent came to us and said let's do a small run, just seven cities and see how it goes. And that's what we're doing. It was kind of presented to us and we were like, "Yeah, let's do it."
When you're doing the full albums live it's sort of how it was meant to be listened to; the songs in those order. So what is it like? Instead of doing a regular live set list you're doing them in order like they were supposedly meant to be heard.
I love doing that for one reason: because when we make a set list it's like doing chores. Like, I just did it last night! You gotta do it! But then I'm always the guy who's always so picky about it, I want the transitions, I want the right energy here, I want to bring it down here and they're always like "Dude, you're over thinking it." So we always end up fighting about it and then we just settle. But this is great 'cuz we don't have to do that. We can just go play a record. But it's really really cool. I'm not gonna pick a favorite, but I feel like tonight energy wise and like where it puts my mind…like right when we start playing the first set I Am the Movie, just takes me straight back almost ten years and I feel like we're that band that was really excited in a van that would play to anyone who would listen. And there's something about the energy to those songs that makes us feel young and stupid and awesome.
Do you remember when you realized that you were finally able to quit your day job and focus on music as a career?
Yeah, well I quit my day job way before I should have. Like waaay before I should have. I joined this band in June 2002 and I was talking to Tony one night, he was home and he was living in Richmond at the time and he said they might be looking for a new bass player and I was like, "I'll totally do it. I will leave right now, I'll go." So the next day I was telling my boss I'm out of here and I couldn't give him two weeks, I just had to go. It wasn't the next day but it was a few days. So I did that and my parents were awesome, they helped me out for a little while. I went to Minneapolis and played shows and started touring and I still had a car payment and all this stuff and they were helping. They paid my bills for a while and then the second we signed to Epitaph I gave them all the money I got. Like, alright now I'm in the clear…so yeah, it was great, my parents rule.
OK, you joined the band in 2002, but perhaps you can give me a little abridged version of what went on during the six years between no album and the first album, I Am the Movie?
Um, it's gonna be tough but all I know is Justin and Josh used to play in separate bands in the Minneapolis scene I think comin' outta high school so they were pretty young. Josh always took note and enjoyed Justin's singing so I think he kind of pestered him for a little while to be in a band. Finally, Justin caved and they started playing and they went through gosh I swear almost ten drummers from then til Tony. For some reason they were a revolving door for drummers. I don't know what the deal was but, a lot of line-up changes. They put out a 7" and a couple EPs. I don't think they really started touring seriously until maybe 2000. Then Tony joined in 2002, Jesse joined in 2002 and I joined later that year.
If you weren't playing music, what could you see yourself doing?
I honestly can't imagine doing anything else but was considering doing some sort of computer based design stuff.
So you'd be making album covers for other bands?
Honestly, that would have been what I wanted to do. Something in music, if not directly.
What interview question do you hate answering?
Well, it's funny. We just talked about this. There's one that people say, "so you did this…and this being like a fill in the blank…so you've worked with this, so you did the Warped Tour…what's that like?" It's just, broad and not a very inventive question and it's just like…eh, here we go. I don't like that. Pare it down a little and I'll give you some descriptive answers.
What are the next few years looking like for Motion City Soundtrack?
Gosh, I mean, three of us by the end of this year will be married…
To each other?
Well, we've been long married to each other. We're still doing it, there's no plan to stop. We're gonna go and I think we'll know the moment we need to stop. I think we'll know. But we're just gonna keep getting married, having babies and making music.