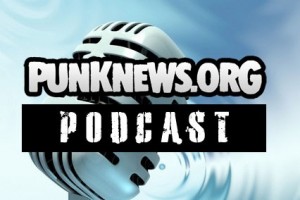 This week on the Punknews Podcast, the classic lineup of Bryne Yancey, Rich Verducci and Adam White discuss The Gaslight Anthem's move to a major label, Tim Armstrong's musical theater web series and why he should stick to things other than narration, as well the best secret and unplanned shows of Fests past, complete with insider tips on how to get to these shows and more importantly, how to act around Gainesville cops and business owners. Punx! We also spend time talking about Asian Man Records, how it's funny that the guy who organized Seattle Soundfest is a captain, Cheap Girls moving to Rise Records, and what Danzig is probably doing instead of singing for The Misfits.
Additionally, we feature music from The Slow Death, The Snails and Pentimento.
You can click Read More to stream and/or download the show, or subscribe via RSS or iTunes. You can always send us your feedback in the comments section or via e-mail.