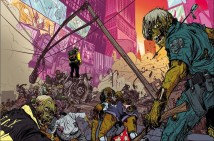 Claudio Sanchez, frontman of Coheed and Cambria has released his latest comic book, Key of Z. The comic is about a zombie apocalypse that has transformed Manhattan into "two separate battle-hardened fiefdoms."
The press release states: Nick Ewing is left to survive while seeking revenge on those responsible for the death of his family – the warring gangs residing in The Big Apple's most illustrious athletic houses. Ewing stumbles upon a sentimental artifact from his past that imbues him with surprising power. Find out what happens when he discovers the "Key of Z".
Sanchez will be doing a mini-signing tour for Key of Z. Click Read More for the dates.
Coheed and Cambria's new song "Deranged" was released this week as part of the Collector's Edition of Batman: Arkham City and is also featured on the video game's soundtrack.
| Date | City | Comic Store |
| --- | --- | --- |
| Oct 19 | Providence, RI | Newbury Comics |
| Oct 21 | Orlando, FL | A Comic Shop |
| Oct 25 | Los Angeles, CA | Meltdown Comics |