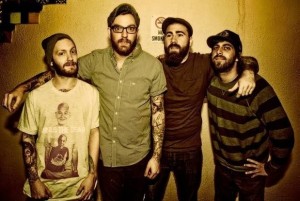 Four Year Strong have debuted the video promo for their new song 'Just Drive', scant hours after debuting the decidedly lower budget but arguably more fan-centric video for 'Fairweather Fan'.
We recently reported that Four Year Strong had debuted a live version of 'Fairweather Fan', which, like 'Just Drive', is taken from their upcoming full length, In Some Way, Shape or Form. The band have subsequently released a video of the studio version, complete with a myriad of photographs of the band and their fans, fans' tattoos, and a singalong friendly lyric bar running across the bottom. Speaking through their Facebook page, the band had this to say:

"We wrote this song, "Fairweather Fan", in honor of all of our REAL fans. The kids that have been there from the very beginning. The kids who love us for us, not for the gimmick, not for the fad, and not ONLY because we have breakdowns. We have always been a band that just plays music because its what we love to do. Not because we want money, or fame, its because we love it. So this song goes out to all those kids who call themselves a "fan" until a band does something different, and then just hop on the the next "cool" band. We have always taken pride in our fan base because it was so eclectic, so open minded, and so unique. This song is written in honor of you, and saying fuck you to everyone else. This is four year strong. Rise or die."
'Fairweather Fan' is available as a free download from their Facebook page.