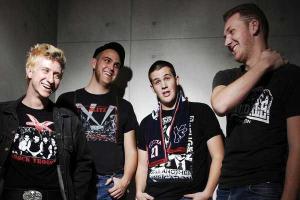 Chicago-based Celtic punk band Flatfoot 56 has signed to Paper and Plastick. They plan to record their next album in January, and will once again work with Street Dogs' Johnny Rioux, who produced their 2010 release, Black Thorn. The sessions will take place at Matt Allison's Atlas Studios in Chicago.
As for what fans can expect on the new record, frontman Tobin Bawinkel explains:

"The next record's sound is taking on a much more mature, heartfelt tone. We're writing these songs as life gets thrown at us, and as we all get a bit older and start to interpret life in different ways, we want to express ourselves to reflect the victories and defeats that we all go through. We still love whipping the crowd into a frenzy and making everybody dance but we want to write some tunes that people can relate to, and that they can sing along to."
As previously reported, Flatfoot 56 will be on tour supporting Mustard Plug in November.
| DATE | VENUE | CITY |
| --- | --- | --- |
| Nov 10 | Grog Shop | Cleveland Heights, OH |
| Nov 11 | Sneaky Dee's | Toronto, Canada |
| Nov 12 | Mohawk Place | Buffalo, NY |
| Nov 13 | Eleanor Rigby's | Jermyn, PA |
| Nov 14 | Heirloom Arts Theatre | Danbury, CT |
| Nov 15 | Funk N Waffles | Syracuse, NY |
| Nov 16 | Great Scott | Allston, MA |
| Nov 17 | Ottobar | Baltimore, MD |
| Nov 18 | Knitting Factory Brooklyn | Brooklyn, NY |
| Nov 19 | Asbury Lanes | Asbury Park, NJ |
| Nov 20 | The Backstage at Champions | Trenton, NJ |