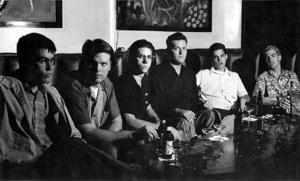 San Diego rock band Rocket From The Crypt, active from 1989 to 2005, recently reunited for an episode of the Nickelodeon children's show Yo Gabba Gabba, for the upcoming season. The reunion included frontman John Reis, who has a recurring role on the show as The Swami, and drummer Atom Willard (The Offspring, Social Distortion, Angels and Airwaves).
Unfortunately for fans, Reis posted on Facebook that the group is "only interested in playing to audiences of 5 to 10 people between the ages of 3 to 6" and "will most likely never play as a band ever again."
Rocket from the Crypt is the third of Reis' many musical acts to reunite in the past year. Sultans (2000-2007) performed a one-off reunion show last Halloween, while Hot Snakes (1999-2005) will be playing this year's All Tomorrow's Parties festival in the UK as well as 2012's Fun Fun Fun Fest in Austin, TX. His most recent act, The Night Marchers, released their debut titled See You in Magic in 2008.